Dockside Fishing Vessel Exams for Bristol Bay, Alaska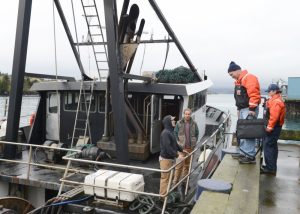 Commercial fishing continues to be among the most hazardous jobs in the U.S. but there are many ways vessel owners and crew members can mitigate risk. In an effort to prepare for the 2019 Bristol Bay commercial salmon season, the U.S. Coast Guard is offering free dockside examinations for all commercial fishing vessels. Locations and dates are as follows:
King Salmon: June 6-21
Dillingham: June 10-20
Egegik: June 13-18
Examiners will not be issuing fines or penalties during these dockside inspections, but rather will be helping commercial fishers and crew members find and address safety issues. Examiners will concentrate on safety items such as immersion suits, EPIRBs, firefighting equipment, flares, charts, and navigational signals.
Operators can prepare for the vessel examination by going to Fish Safe West and using the online tool to generate a detailed checklist for their specific type of vessel. Operators or crew members are asked to answer a few questions using a desktop computer, laptop, tablet, or smartphone. A custom checklist of requirements is created based on the responses.
New safety measures were developed in 2018 at an industry-led navigation safety workshop. Leaders from the Bristol Bay commercial fishermen and tug/barge industry, as well as the U.S. Coast Guard, came together to establish safety measures and reminders regarding the International Navigation Rules for the Responsibilities for Vessels, Anchoring, Tug/Barge Pre-Arrival Notifications, Navigation Lights and Communication.
"Coast Guard dockside examinations are free, take about half an hour, ensure compliance with all federal regulations and can reduce the likelihood of getting boarded at sea," said Scott Wilwert, fishing vessel safety coordinator for the Coast Guard 17th District. "Take the time, don't pay a fine."
The U.S. Coast Guard is authorized to conduct at-sea inspections at their own discretion. Vessels that pass the dockside exam receive a special decal. Vessels with these recently issued decals are less likely to be boarded by law enforcement personnel while at sea. Vessel operators can review federal regulations at 46 CFR 28 Requirements.
Vessel owners and crew members can sign up for the free dockside inspections by calling the U.S. Coast Guard examiners working in Dillingham at 907-439-5777, Egegik at 907-439-5779, and King Salmon at 907-439-5778. To signal that a vessel is ready for examination, crew members are asked to run a ring buoy high on the mast or on the bow of the vessel in a highly visible location.
In 2018, many vessels had their voyages terminated due to inspection failures at sea. Exposing workers to safety issues is unacceptable, and vessels that are in violation are subject to civil penalties and monetary fines. Being prepared on a seaworthy vessel is the best way to keep your crew and your livelihood safe and secure.