F/V Ann Kathleen Catches Fire off Oregon Coast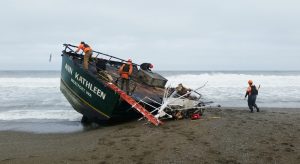 Crew members were forced to abandon ship when the F/V ANN KATHLEEN caught fire on Thursday, May 2nd just off the coast of Bandon, Oregon. Good Samaritan F/V LYNOMA rescued the fishermen from their life raft, then transferred them to a U.S. Coast Guard vessel after it arrived on the scene. No one was reported to have suffered injuries in the accident.
On Thursday afternoon at low tide, the 64-foot wood and fiberglass fishing vessel washed ashore just north of Floras Lake. The Oregon Parks and Recreation Department reported that the vessel was still burning when it ran aground. Bandon Fire Chief Lanny Boston said the vessel was carrying approximately 2,000 gallons of diesel, which fueled the fire. By Friday, the fire had been successfully extinguished. Officials are investigating the cause of the fire.
Members of the local fire department, the U.S. Coast Guard, and the Oregon Department of Environmental Quality all evaluated the site for toxic materials. They are creating a response plan to safeguard the beach and a nearby shorebird nesting area. The area in which the vessel burned is a designated recovery area for the threatened western snowy plover. Officials have contacted the vessel's owner and insurance company.
The Oregon Parks and Recreation Department staff are expected to manage the cleanup of the non-toxic beach debris, while other agencies will deal with the containment and cleanup of fuel. Six 275-gallon plastic totes were delivered by helicopter to the beach on Monday, and partner agencies have already removed 1080 gallons of diesel from the washed-up vessel. Officials are currently asking that the public stay away from any debris and wildlife in the area.