F/V KRISTI Sinks, Crewmembers Rescued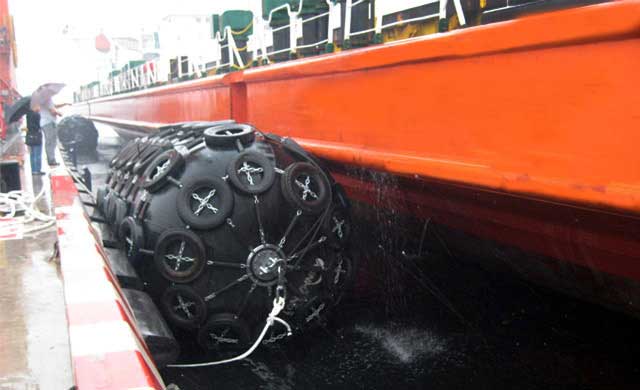 When the F/V KRISTI lost power on July 14th shortly after midnight, no one could have imagined the disaster that was about to take place as the vessel drifted near Clark's Point, a Bristol Bay village just outside of Dillingham. As the tide came in, it brought the vessel along toward shore, traveling at approximately 5 knots or 500 feet per minute.
Owner and skipper Jan Medhaug along with deckhand Kyle Brajakowski were working to restore engine power to the 32-foot salmon gillnetter while Kayla Breeden, Jan's wife, placed a buoy at the stern. Breeden reported that she could see that they were headed straight for two large docked vessels, the 330-foot F/V GORDON JENSEN and the 400-foot cargo ship SOHOH.
With no engine power to maneuver the vessel, the tide pushed and wedged the F/V KRISTI into a Yokohama fender that was positioned between the two large vessels. A "fender" is a large rubber cylinder filled with air and wrapped in tires, that acts as a buffer to protect large vessels docked close together. The F/V KRISTI was nearly the same size as the fender, and thus the small aluminum vessel began violently bouncing between the two large steel-hulled ships. The smaller vessel twisted and took on water, then sunk seconds after the last crewmember was lifted from the vessel by the crew on the GORDON JENSEN in a rescue basket. See the astonishing video of the sinking here.
The U.S Coast Guard continues to investigate the incident. It was noted that the F/V KRISTI anchor line was not long enough to be useful as they were drifting in 40 to 50 feet deep waters.
"Certainly, an anchor might have helped in this case," said U.S. Coast Guard Lieutenant Commander Michael Novak. "Situational awareness is always key, and having the right equipment, knowing your operation can obviously prevent disasters."
No damage has been reported by the captains of the GORDON JENSEN or the SOHOH. The U.S. Coast Guard is working with the F/V KRISTI vessel owner on a salvage plan. Sunken vessels carry pollution risks as fuel often leaks. A sound salvage strategy can mitigate pollution.
The owners and crew were reported to be extremely grateful for the help of good Samaritans and thankful that their 11-year-old son was not aboard at the time of the sinking. Jan Medhaug has been fishing in the area for about 25 years and looks forward to returning next season (with a new vessel).