Fisherman Rescued near South Beach State Park, Oregon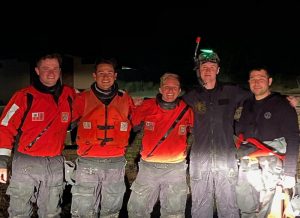 The most dangerous job in the world requires proper safety gear, proficient training, quick action during mishaps, and experienced emergency responders at the ready when the need arises. These essentials came together on Tuesday, September 8th to save the life of a fisherman when his 44-foot commercial fishing vessel ran aground then began breaking apart in the 10-foot surf near South Beach State Park, Oregon.
Watchstanders at U.S. Coast Guard Sector North Bend received a mayday call that the lone fisherman, trapped on the south jetty in Newport, was being forced to abandon ship. The 52-foot Motor Lifeboat Victory, a 47-foot Motor Lifeboat, and a ground crew were dispatched from Station Yaquina Bay.
Crew members from Station Yaquina Bay instructed the fisherman to use flares to signal his location. The flares were visible to the Motor Lifeboat as well as an MH-65 Dolphin rescue helicopter that had been deployed. The helicopter was unfortunately forced to turn back due to hazardous weather and poor visibility.
The 47-foot Motor Lifeboat arrived on the scene at about 1:20am but was unable to get close to the vessel due to shoaling.
The ground crew heroically ran more than 1.5 miles along the coast while carrying equipment and 500 feet of rescue line. At about 1:35am the fisherman was forced into the water. Petty Officer 1st Class Wallace Qual attempted to swim to the mariner's position. The fisherman was swiftly swept south by the current, and Qual was forced to return to shore. Qual repositioned and went in for a second attempt and successfully rescued the fisherman. The crew on shore pulled the two from the surf via the rescue line, and the fisherman was transferred to awaiting emergency medical personnel.
"The overall teamwork that went into locating the mariner, and the communication between our crews, was huge", said Qual. "When I got to him, he was wearing his survival suit and had an EPIRB (emergency position indicating radio beacon) and strobe light in hand. That preparedness probably saved his life."
The U.S. Coast Guard praised the fisherman for being well equipped, for deploying the proper safety equipment, and urges all mariners to be well prepared for just this type of situation.
Weather at the scene was reported as 10-foot breaking surf, nearly zero visibility, 34.5-mph winds, and a water temperature of 56 degrees.