F/V GUDNY and Coast Guard Cutter SPAR disabled off Kodiak, Alaska; 4 fishermen airlifted to safety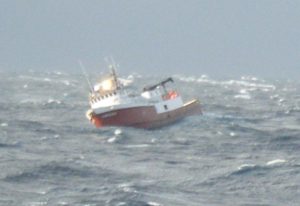 January 6 was a tough day for the F/V GUDNY and Coast Guard Cutter SPAR, both disabled 230 miles east-southeast of Kodiak, Alaska.  Fortunately, the four fishermen off the 87' LADY GUDNY were airlifted by a Coast Guard helicopter crew and safely flown to Kodiak.
What happened? At 1:43 a.m. the Kodiak Coast Guard received a distress call from the F/V LADY GUDNY requesting fuel filters because the engine had failed and they were adrift. At 7:30 am, they called again to say they could not restart the engine. Weather was reported as 20-22 foot seas with 49 mph winds – see the photo above. The helicopter crew flew out and airlifted the fishermen off the boat, and the 225' Coast Guard Cutter SPAR arrived to tow the LADY GUDNY to Kodiak. Unfortunately, the towline parted and tangled in the SPAR's propeller, disabling the SPAR. Lines tangled in propellers are a nightmare for any vessel size. The commercial tugs ANNA-T and CHAHUNTA ended up towing the SPAR AND LADY GUDNY to Kodiak.
Here are two Coast Guard statements about the LADY GUDNY:
"This case is a testament to the difficulties of operating in Alaska's extreme ocean environment," said Lt. Cmdr. Orion Bloom, chief, 17th District Command Center. "Our response benefitted from the early notification from the fishing vessel Lady Gudny that they were experiencing fuel filter difficulties."  and
"Due to the extreme conditions in the Alaskan maritime environment, it is even more important everyone wear their life jackets and ensure proper vessel maintenance for safe ocean transits," said Adam De Rocher, command duty officer, 17th Coast Guard District.