Head Injury Aboard the Bering Hunter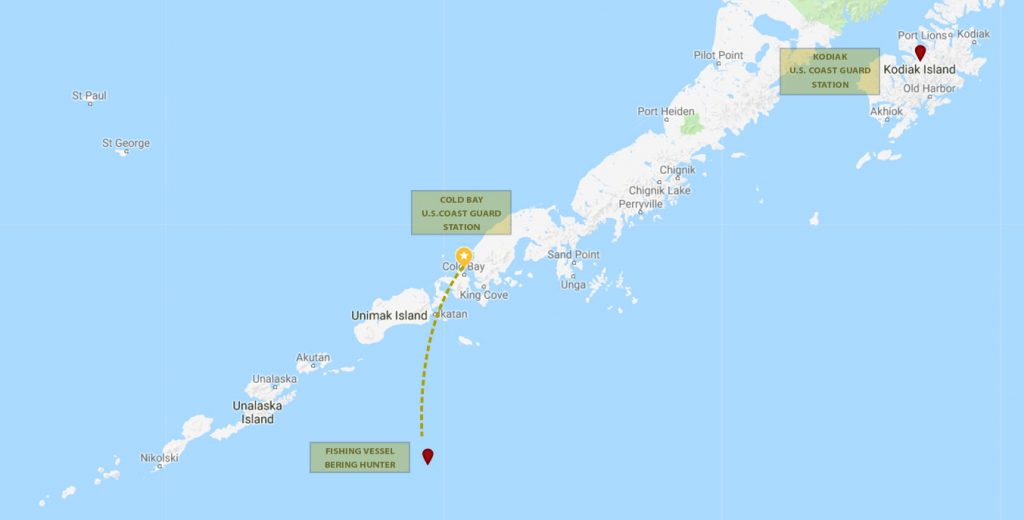 A 25-year-old man was airlifted by the U.S. Coast Guard from the 107-foot fishing vessel Bering Hunter after he fell and suffered a head injury.
Watchstanders at the 17th Coast Guard District command center received a call from the captain of the vessel, stating that a crewmember had fallen and sustained a head injury. The Coast Guard duty flight surgeon recommended the medevac, and a Coast Guard Air Station Kodiak MH-60 Jayhawk helicopter crew was dispatched to the Bering Hunter location.
"Having assets forward deployed to Cold Bay during the winter fishing season allows our crews to respond quickly," said Lt. J.G. Rian Ellis, a 17th district watchstander. "We are able to eliminate hours of flight time in the Bering Sea and Aleutian Islands, ensuring the safety of mariners."
The fishing vessel was located approximately 60 miles south west of Cold Bay, and the crewmember was quickly transported to emergency medical personnel.
Weather at scene was 23-mph winds.