Worker Injured Aboard Anchored Vessel in Astoria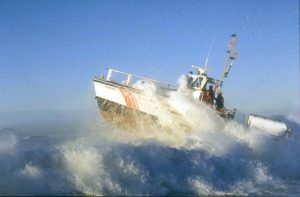 The U.S. Coast Guard Sector Columbia River was contacted on Monday morning after a worker was injured while installing a recirculation system aboard the bulk carrier Ergina Luck. The worker fell into the bilge, and it was reported that both his legs and back were injured in the fall and that he was unable to walk. The Ergina Luck was anchored in Astoria at the time of the accident.
The Clatsop County high-angle rescue team was transported from Station Cape Disappointment aboard a 47-foot Motor Life Boat to assist and transport the injured man. The rescue team immobilized the injured worker, then carried him up three sets of stairs before he could be lowered to the crew members aboard the MLB. He was then transported to emergency medical services at the 17th Street Pier in Astoria, Oregon.
The injured man is employed by Degesch America at their Portland, Oregon location. The company specializes in fumigation, degassing, and abatement services for bulk carrier vessels. The incident is under investigation.