Man Falls Overboard on F/V Irony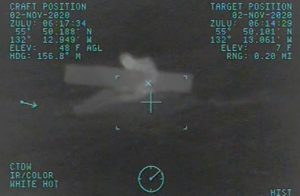 On November 2, 2020, the U.S. Coast Guard 17th District command center received a "search and rescue satellite alert" from the F/V IRONY. A 70-year-old man had fallen into the rough waters of Union Bay, Alaska, just northwest of Meyers Chuck.
The U.S. Coast Guard Air Station Sitka launched an MH-60 Jayhawk helicopter crew as well as the U.S. Coast Guard Cutter ANACAPA and crew to carry out the search and rescue operation. The man was found clinging to a piece of debris, immediately hoisted, then taken to awaiting emergency medical personnel in Ketchikan, Alaska.
"What saved this man's life was his essential survival equipment," said Lt. Justin Neal, a helicopter pilot from Air Station Sitka. "He had an emergency position indicating radio beacon registered in his name that allowed us to find him quickly, and his survival suit kept him warm long enough for us to rescue him."
A well-maintained survival suit and properly registered beacon saved this man's life. This incident again highlights the need for all vessel owners, masters, and captains to test the functionality of survival suits stored on their vessels. Under federal law, it is the duty of the person in charge of the vessel to make sure all lifesaving gear is properly maintained and inspected before each voyage. Read more about proper maintenance and federal laws at Maintain, Inspect, and Test Immersion Suits Today.
It was reported that the man was in stable condition. Weather at the scene was reported as 10-foot seas and 57 mph winds. Watch this remarkable rescue here.