Maritime Slip and Fall Accidents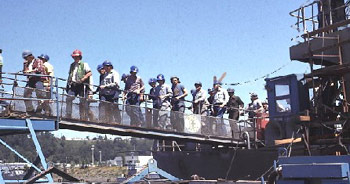 Each year fishermen, crewmembers, and deckhands are injured aboard fishing vessels due to slip and fall accidents. Many of these accidents occur on decks, ladders, and stairs, and most happen due to:
poorly maintained equipment
equipment that is out of compliance
wet or slick surfaces from fish slime, grease, ice, water, or oil
clutter and debris
poorly trained crewmembers
Slip and fall accidents can cause serious injuries that may be career ending or life threatening. They are also the leading cause of overboard accidents. Slip and fall accidents are often the cause of:
soft tissue injuries
torn ligaments
torn meniscus
sprains and strains
bone fractures
back and spinal cord injuries
head and neck injuries
traumatic brain injuries
concussions
overboard falls
death
Even the most insignificant slip and fall accidents can require medical intervention and physical therapy in order to get a fisherman back to work.
It is the employer, captain, or vessel owner's duty to provide workers with a safe and seaworthy vessel. Stairs and ladders must have handrails on both sides, rungs that are in good condition, non-slip surfaces, proper handholds, and crew members must be properly trained. If these basic requirements are not met, the vessel is considered "unseaworthy" under maritime law.
Stairs must be uniform in rise and run, an adequate width for passage, with an even surface. Currently, a width of 11 inches is considered a minimum best practice for vessel construction, and all step lips should have highly visible markings.
Broken or poorly-maintained ladders, stairways, gangways, and gangplanks are also common causes of injury. Regular inspection and maintenance is imperative. Ladders that are warped, bent, or missing rungs must be discarded. In addition to making sure these items are regularly inspected, employers should ensure that all ladders have slip-resistant surfaces.
After an accident occurs, steps are often changed, altered, repaired, or painted before lawyers or expert engineers can inspect the area. If you have been injured in a slip and fall accident while working aboard a vessel, it is imperative that you immediately photograph the area where the injury occurred. If you are unable to do this yourself, have a crewmember assist you.
Jones Act Law requires that the vessel owner pay all medical bills with your chosen provider, and all "maintenance and cure". Maintenance is considered a worker's day-to-day living expenses, and "Cure" is a worker's medical expenses. Vessel owners are required to pay maintenance and cure until a worker can return to his or her duties, or until he or she has reached a point where additional medical treatment will not help.
Stacey & Jacobsen, PLLC is one of the most experienced maritime personal injury law firms in the nation. They have represented thousands of injured fishermen, deckhands, crewmembers, crabbers, and seamen. They have recovered millions of dollars in compensation for their clients. If you have been involved in a slip and fall accident while working at sea, call one of our attorneys today for a free case evaluation.