Trident Seafoods begins construction at Captains Bay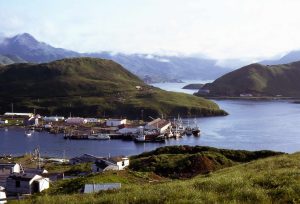 Trident Seafoods is in the process of constructing the initial bunkhouses for their upcoming processing plant located in Captains Bay, Unalaska. The company hopes to have the plant operational by 2027.
The Aleutian Islands and Bering Sea are known for some of the most productive fishing grounds globally. The region is famous for harvesting Alaska pollock, the whitefish commonly used in products like fish sticks and McDonald's Filet-O-Fish sandwiches.
A sizable portion of the harvested pollock is currently processed at the expansive Trident Seafoods facility in Akutan. However, due to aging infrastructure and years of wear and tear, the seafood company has elected to construct a new facility.
In 2017, the company initiated a feasibility study to investigate potential upgrades for the Akutan plant. Various changes were explored, including building redesign and energy efficiency. However, company planners ultimately concluded that complete reconstruction was the most viable option.
In the spring of 2022, following the acquisition of a tidelands lease from the City of Unalaska, Trident Seafoods began construction of a dock at Captains Bay. The work involved rock crushing and removal to prepare the site for construction. Over the course of the year, a sheet pile dock spanning more than 1,500 feet was built, then left to settle for a year. Currently, they are grading and developing a fendering system as well as building the inaugural bunkhouse.
Although the company has not provided exact dimensions for the upcoming facility, they have indicated that it will be no smaller than the Akutan plant, which is currently the largest processing facility in North America.
The new facility will prioritize automation, renewable energy, and a 100% protein capture rate. This means aiming for such high processing efficiency that there will be no leftover fish scraps discharged into the sea.
Trident Seafoods is proposing that the new plant be incorporated into the current city infrastructure. Factors such as power generation, plumbing, and road access all present significant hurdles. Unalaska serves as the main electricity supplier for the community, but the existing diesel power station falls short in generating sufficient energy to support the operations of the new Trident plant.
Many seafood processing companies generate their own energy using a mix of diesel and fish oil. However, Trident has expressed its intention to avoid energy production. Instead, the company is optimistic about alternative energy, possibly the Makushin Geothermal Project.
Efforts to harness geothermal energy from the nearby Makushin Volcano have been ongoing since the 1980s. Despite unsuccessful attempts over the years, recent progress has been made. While success is not assured, the Makushin Volcano project's timeline may align with the construction of the new seafood facility.
The Trident team is currently in the process of constructing bunkhouses, while the geothermal crew is establishing an access road. Both endeavors are scheduled to be operational by the year 2027. The Stacey and Jacobsen, PLLC team will keep readers posted on progress.