U.S. Coast Guard Rescues 4 Maritime Workers This Week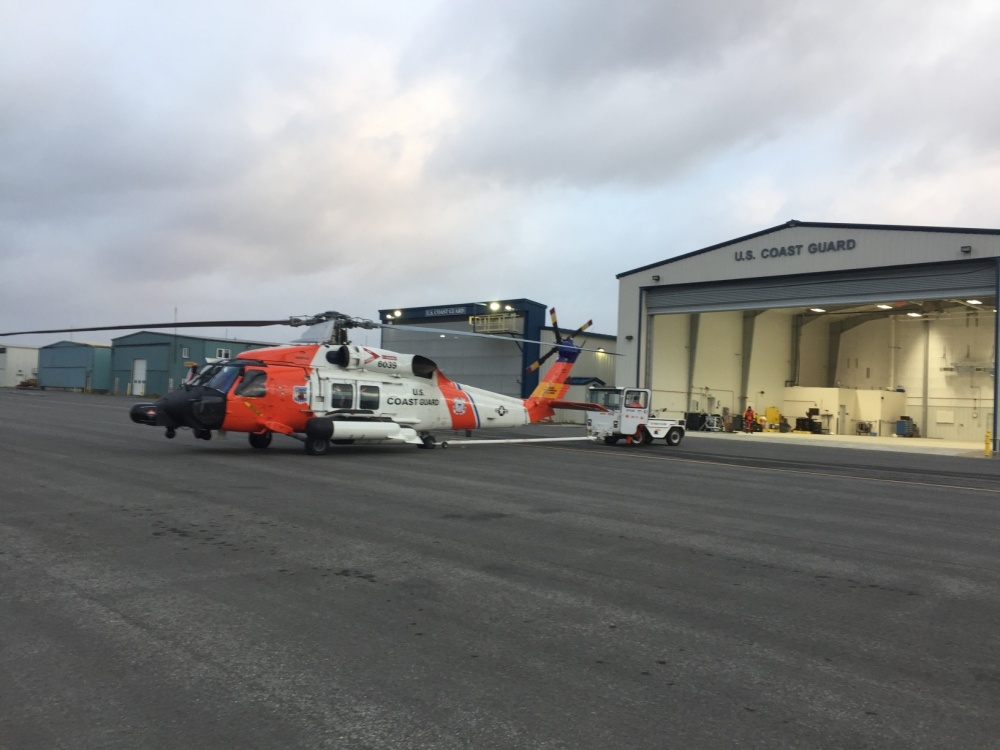 In an effort to reduce response times during the winter commercial fishing season, the U.S Coast Guard is making good use of a "forward operating location" in Cold Bay. It was a busy week for the U.S. Coast Guard, 17th District Alaska, as they rescued a total of 4 maritime workers from various fishing vessels in the Cold Bay area this week.
On January 23rd, a Coast Guard Air Station Kodiak MH-60 Jayhawk helicopter crew (forward deployed to Cold Bay) medevaced two men from two different fishing vessels in one heroic trip.
A 21-year-old man aboard F/V Ocean Peace was suffering from sea sickness and loss of consciousness when watchstanders at the 17th Coast Guard District command received the call. Seasickness is a common issue for seamen and fishermen, and the dehydration that accompanies it can be very serious. The Jayhawk helicopter crew hoisted the 21-year-old man at approximately 5 p.m., then picked up a 37-year-old man with a hip injury from the F/V Northern Patriot. Both men were safely transported and received medical treatment.
"We had excellent communication and coordination between the 17th District command center, the Air Station Kodiak crew, and the two fishing vessels," said Petty Officer 1st Class Luis Fagalnifin, 17thDistrict command center watchstander. "Our aircrew transported the two men safely to a higher level of medical care thanks to everyone moving with a sense of urgency."
On January 24th, a 42-year-old man was medevaced from the F/V Golden Alaska, as he was suffering from a hernia. The Coast Guard duty flight surgeon recommended the man receive surgical care within eight hours. Hernias are a common injury among fishermen due to the heavy lifting associated with the job. If not properly treated, this condition can sometimes result in a strangulated hernia, which can become life-threatening. This happens when the small intestine pushes through the abdominal muscles and the surrounding muscles cut off blood supply to the intestine. When strangulation occurs, it can lead to gangrene, shock, and even death.
"In this case, we had a helicopter crew nearby which greatly assisted in the quick rescue of the man," said Lt. Cmdr. Orion Bloom, 17th District command center command duty officer. "We were able to get him to medical providers in Cold Bay within approximately 3 hours from initial notification."
And finally, on January 28th, a U.S. Coast Guard MH-60 Jayhawk helicopter crew medevaced a fisherman from F/V Ocean Rover. The 59-year-old man was suffering from abdominal pain, and was transported to Cold Bay and then Anchorage for emergency medical care.
"This is exactly why we have our assets forward deployed to Cold Bay during the winter fishing season," said Lt. Danny Piazza, 17th district command center command duty officer. "Our crews can eliminate hours of flight time in the Bering Sea and Aleutian Islands, ensuring the safety of mariners."