Washington State Pilotage Act Celebration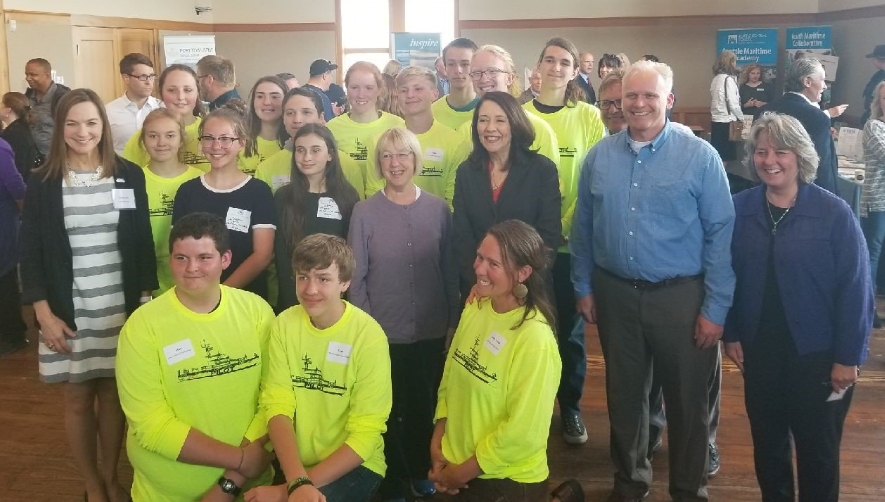 The 150-year anniversary of the Washington Pilotage Act was celebrated last week at the Northwest Maritime Center in Port Townsend, Washington. Elected officials Patty Murray, Maria Cantwell, Kevin Van De Wege and Mayor Deborah Stinson were all in attendance.
Mayor Stinson welcomed all pilots to the Northwest Maritime Center and praised them for their leadership in safeguarding our state's maritime economy as well as the environmental health of our waterways.
According to historian Alice Alexander, the original pilotage program was created in 1868 by a territorial act. It was later repealed, then replaced with the Puget Sound Pilots organization, which requires all foreign vessels traveling in the Puget Sound and adjacent waters that engaged in foreign trade, have professional piloting services. This requirement was initiated to protect Puget Sound waterways against loss of life, loss or damage to vessels or property, and to protect the environment.
Maria Cantwell explained that professional pilots are required for all large vessels navigating in Puget Sound and Grays Harbor. These highly skilled and trained pilots work hard to keep Puget Sound and our waterways safe.
"Puget Sound is one of the busiest, most complex waterways in the world. There are 100 nautical miles between Neah Bay and Cherry Point, oftentimes plagued with driving rain and reduced visibility. We rely on these pilots for the safe passage of millions of cargo containers, more than a hundred thousand vehicles and two hundred thousand tons of bulk cargo every year," Cantwell said.
She went on to say that over $80 billion worth of goods travel through Puget Sound each year, which makes these pilots indispensable to our region. There are 200,000 people with jobs directly and indirectly related to the vessels that come in and out of Puget Sound.
The Northwest Maritime Center offers training programs for those who would like to become pilots. The educational program can take up to four years to complete, then another 10 to 20 years of experience, study, and exams are required to become a captain.
Patty Murray said she was grateful to see so many Port Townsend High School students in attendance at the event.
"I'm glad to see the students here. This is a highly specific and skilled profession that can take decades to reach the top of the field. I want to applaud the Puget Sound Pilots for stepping up to what is a national issue: recruiting and retaining a skilled workforce. I look forward to your call to action to increase awareness and diversity in maritime piloting," Murray said.