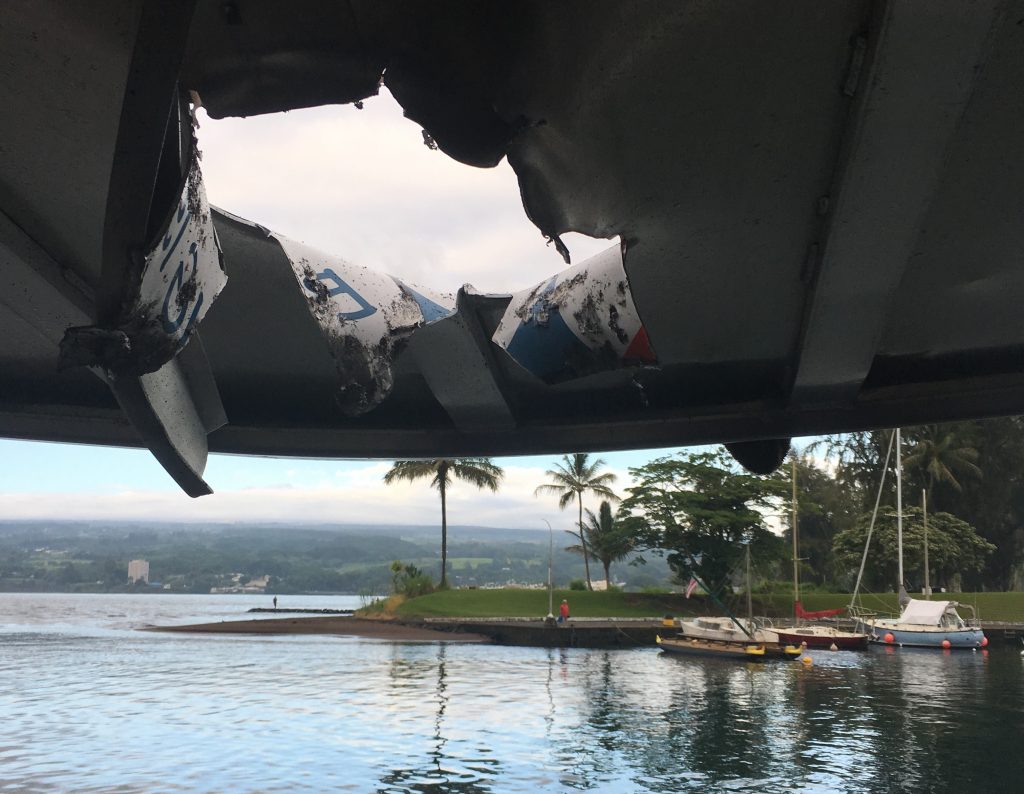 The U.S. Coast Guard and the Hawaii County Police Department continue to investigate an incident in which "lava bombs" showered down on a Kapoho Bay sightseeing vessel, injuring 23 tourists. Officials reported that the lava tour boat was cruising near the erupting Kilauea volcano on Hawaii's Big Island when lava bombs began crashing down on the vessel. It has been reported that about 50 lava bombs hit the boat and that one, about the size of a basketball, pierced the metal roof of the vessel, injuring 23 passengers.
Sector Honolulu watchstanders received the initial call from 911 at about 6 a.m. that three crewmembers, as well as three tourists, had been injured in an incident in Kapoho Bay aboard the lava sightseeing vessel Hot Shot. The sightseeing vessel returned to Hilo harbor where emergency medical personnel were waiting to receive the injured. Ten passengers were treated at the scene for cuts and burns, while 13 others were referred to Hilo Medical Center for treatment. Four were sent by ambulance, and one woman in her 20s has been listed in serious condition with burns and a fractured femur.
"Today's unfortunate event is a good reminder about the risks involved with observing a natural wonder like this one and the reason officials are continuously monitoring the eruption to ensure the public is kept at safe distances on land, in the air and while at sea," Ross Birch, executive director of the Island of Hawaii Visitors Bureau, said in a statement.