Lava Bombs Hit Tour Boat, 23 Injured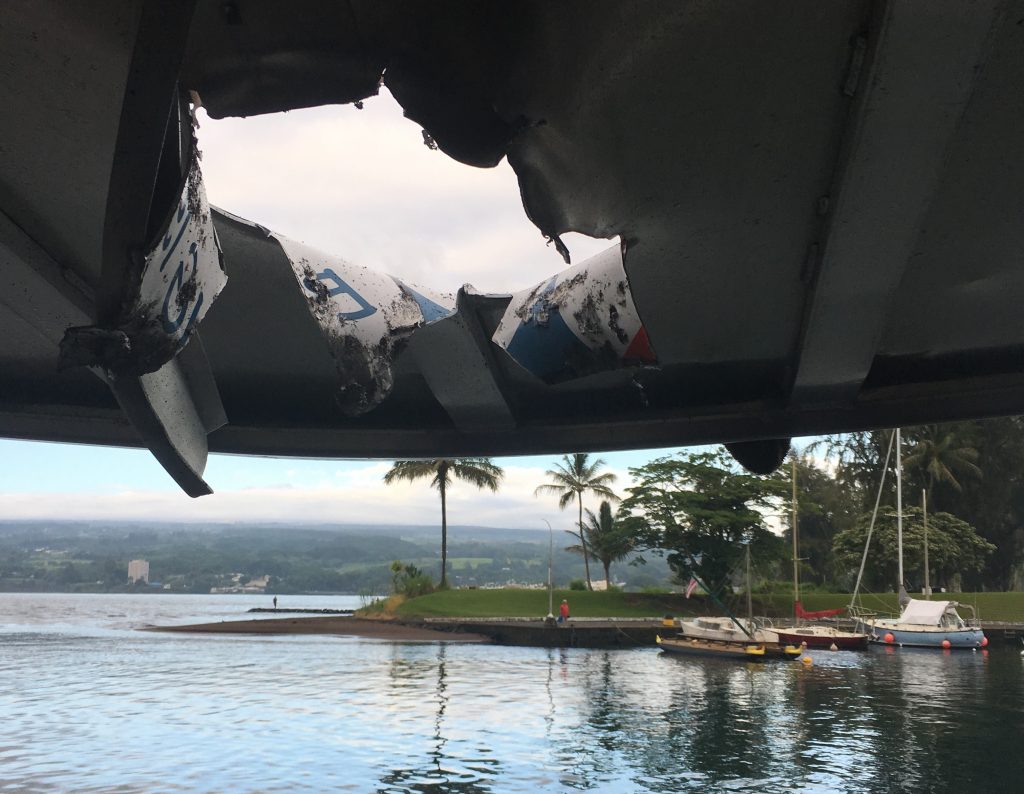 The U.S. Coast Guard and the Hawaii County Police Department continue to investigate an incident in which "lava bombs" showered down on a Kapoho Bay sightseeing vessel, injuring 23 tourists. Officials reported that the lava tour boat was cruising near the erupting Kilauea volcano on Hawaii's Big Island when lava bombs began crashing down on the vessel. It has been reported that about 50 lava bombs hit the boat and that one, about the size of a basketball, pierced the metal roof of the vessel, injuring 23 passengers.
Sector Honolulu watchstanders received the initial call from 911 at about 6 a.m. that three crewmembers, as well as three tourists, had been injured in an incident in Kapoho Bay aboard the lava sightseeing vessel Hot Shot. The sightseeing vessel returned to Hilo harbor where emergency medical personnel were waiting to receive the injured. Ten passengers were treated at the scene for cuts and burns, while 13 others were referred to Hilo Medical Center for treatment. Four were sent by ambulance, and one woman in her 20s has been listed in serious condition with burns and a fractured femur.
"Today's unfortunate event is a good reminder about the risks involved with observing a natural wonder like this one and the reason officials are continuously monitoring the eruption to ensure the public is kept at safe distances on land, in the air and while at sea," Ross Birch, executive director of the Island of Hawaii Visitors Bureau, said in a statement.
While the Kilauea volcano has been erupting for 35 years, new fissures have increased damage and danger to nearby residents and seafaring vessels. The U.S. Coast Guard established a temporary safety zone in March of 2017, requiring all vessels to stay back by 300-meters (approximately 984 feet). After extensive consultation with experts at the University of Hawaii at Hilo Marine Science Department, U.S. Geological Survey, National Oceanic and Atmospheric Administration, and Hawaii Volcano Observatory, authorities made this safety zone permanent in May 2018.
On July 11, 2018, some commercial and research vessels were granted access within the safety zone. These vessels were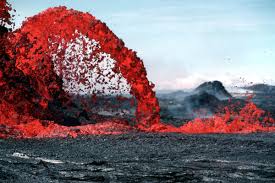 granted permission only if they could demonstrate that they were carrying the required safety equipment, possessed extensive experience operating in the region, and were piloted by licensed captains. However, in response to yesterday's incident, the U.S. Coast Guard has placed the official safety zone at 300-meters for all vessels. There will be no 50-meter approvals granted for any vessels at this time; all vessels must adhere to the 300-meter rule.
An investigation is underway to determine whether the sightseeing vessel Hot Spot (owned by Lava Ocean Tours) was outside the restricted area at the time of the blast. Video of the incident has been made available by one of the passengers, Will Bryan, via YouTube and can be viewed here.
The partners at Stacey and Jacobsen, PLLC will be watching this investigation with great interest. They have worked on many Hawaii maritime cases and understand how maritime accidents happen. They also know how accidents can be avoided. Partner Jim Jacobsen is well versed in Hawaii maritime law, having clerked for a prominent judge in the Hawaii judicial system prior to establishing his practice in Seattle, Washington.
The lawyers at this firm wish all those injured a speedy recovery.