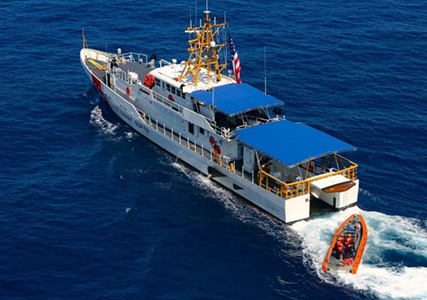 Astoria is set to receive two new lifesaving Sentinel-class cutters. One has already been deployed in Ketchikan, the USCGC John McCormick. These are part of a Coast Guard plan to commission 58 new Sentinel-class Fast Response Cutters, replacing aging Island-class cutters.
The new cutters are 154 ft. long (compared to the 110 ft. Island-class) and feature technology updates, such as weapons systems upgrades, small boat stern launch capabilities (to achieve safer and more efficient operations), and a five knot speed increase over the Island-class vessel. Command, control, communications, and intelligence systems have been updated with state of the art technology. The Sentinel-class cutter can reach speeds in excess of 28 knots, and the new small boats can reach speeds of 40 knots.
The new Sentinel-class vessels are to be named after enlisted Coast Guard servicemen and women who distinguished themselves in the line of duty. The first deployed cutter of its class, the USCGC Bernard C. Webber, is named for the Coxswain of the 36-foot wooden Coast Guard Motor Lifeboat CG 36500, which pulled one of the most daring rescues in Coast Guard history. Webber and his crew faced 60-foot seas to rescue 32 crewmen from the SS Pendleton in February, 1952.