Named for Heroes: New and Improved Coast Guard Cutters Coming to Astoria and Ketchikan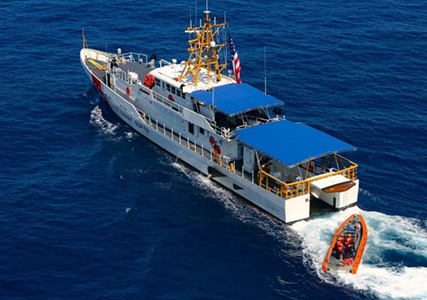 Astoria is set to receive two new lifesaving Sentinel-class cutters. One has already been deployed in Ketchikan, the USCGC John McCormick. These are part of a Coast Guard plan to commission 58 new Sentinel-class Fast Response Cutters, replacing aging Island-class cutters.
The new cutters are 154 ft. long (compared to the 110 ft. Island-class) and feature technology updates, such as weapons systems upgrades, small boat stern launch capabilities (to achieve safer and more efficient operations), and a five knot speed increase over the Island-class vessel. Command, control, communications, and intelligence systems have been updated with state of the art technology. The Sentinel-class cutter can reach speeds in excess of 28 knots, and the new small boats can reach speeds of 40 knots.
The new Sentinel-class vessels are to be named after enlisted Coast Guard servicemen and women who distinguished themselves in the line of duty. The first deployed cutter of its class, the USCGC Bernard C. Webber, is named for the Coxswain of the 36-foot wooden Coast Guard Motor Lifeboat CG 36500, which pulled one of the most daring rescues in Coast Guard history. Webber and his crew faced 60-foot seas to rescue 32 crewmen from the SS Pendleton in February, 1952.
The newest Ketchikan based cutter is named after John McCormick, who received the Coast Guard's Gold Lifesaving Medal when he maneuvered into strong currents and breakers to save crew members who had fallen overboard. Ketchikan is also set to receive a second new cutter, the USCGC Bailey T. Barco.
The new namesake of the Sentinel-class brings with it a sign of commitment from the Coast Guard to continue the mission of saving the lives of sailors with new resolve and technology. "There is no better embodiment of the Commandant's vision of the Coast Guard being defined by its missions, people and heritage than the naming of the new FRC's after Coast Guard heroes," said Former Master Chief Michael P. Leavitt.
The new cutters also promise to bring more Coast Guard crew and presence to Astoria, and other communities around the U.S. where they are to be stationed. In Astoria, this means an "expanded economic base" according to Astoria City Manager Brett Estes. Astoria is already a "designated Coast Guard City" and is home to two 210 ft. medium Endurance Cutters, and the 225 ft. buoy Tender Fir. However, Astoria doesn't have one of the 110 ft. Island-Class cutters. This means new Sentinel-class FRCs will come as a fleet expansion in the area of critical safety improvement.