Coast Guard Rescues 7 in F/V Mystic Lady Sinking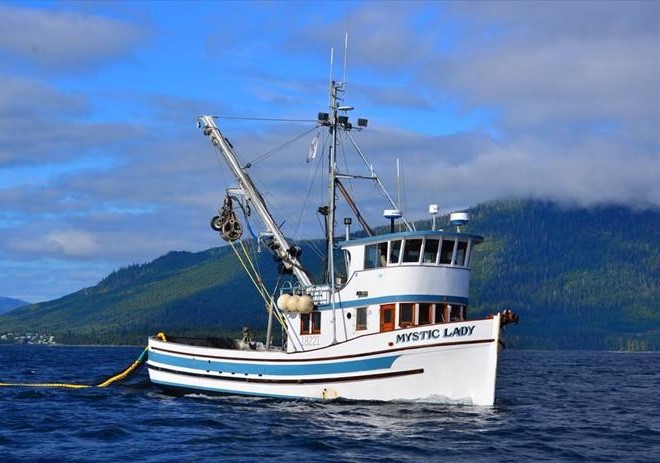 The U.S. Coast Guard rescued five adults and two children after the 58-foot F/V Mystic Lady sunk near Thorne Bay, Alaska.
Shortly after 4am on Friday, June 29th, watchstanders at the Station Ketchikan received a 406-emergency position indication radio beacon alert in addition to a mayday broadcast via VHF-FM Channel 16, that the vessel had hit a rock and was quickly taking on water. A 45-foot Response Boat-Medium crew was launched and on their way to the scene by 4:34. The rescue crew traveled approximately 40 miles and reached the mariners by 5:30am. They arrived to find the F/V Mystic Lady underwater and 7 people in an inflatable life raft waving their arms.
"We were the first to arrive on scene, and I'm thankful that we were able to assist these people as quickly as we could," said Petty Officer 2nd Class Jacob Fischer, the small boat coxswain during the case. "With the inflatable life raft that the survivors used, they increased their own chances of survival exponentially until we were able to be on scene and assist."
This is a stunning example of how important it is to be prepared for an emergency. The EPIRB, VHF-FM radio, and inflatable life raft saved the lives of these 7 people. Once a vessel begins taking on water, it can sink very quickly. April 6th is National EPIRB Day, but we urge all vessel owners to spend some time this weekend making sure all emergency devices are in good working order. The Coast Guard is asking all mariners to be sure vessels are equipped with life rafts, EPIRBS, life jackets, survival suits, and working radios.
It was reported that the vessel was carrying 350 gallons of diesel fuel and 25 gallons of lube oil when it went down. Coast Guard Marine Safety Detachment Ketchikan personnel will investigate and do what is necessary to mitigate pollution risks in Thorne Bay.
At the time of the rescue, conditions were 2-foot seas with 12mph winds. The air temperature was 53 degrees and 10 miles visibility.