Cruise Ship Crew and Passengers Evacuated After Fire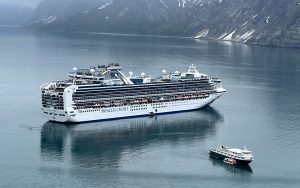 On June 5, 2023, an engine room fire on UnCruise Adventures' WILDERNESS DISCOVERER prompted the evacuation of crew members and passengers.
U.S. Coast Guard watchstanders in Juneau received a call at 7:30 a.m. stating that a fire had broken out aboard the vessel, and help was needed. U.S. Coast Guard cutters PIKE and ANTHONY PETIT along with an Air Station Sitka MH-60 Jayhawk aircrew and resources from the National Park Service were dispatched, and made way towards the distressed vessel.
"Our primary concern is ensuring the safety of the passengers and the crew," said L.t. j.g. Maximilian Carfagno, the command duty officer at the Sector Juneau command center. "The quick launch of our assets and the teamwork among the Sapphire Princess helped in the timeliness of this rescue."
The cruise line stated that other vessels in the vicinity assisted and safely disembarked 16 crew members and 51 guests. In a press release, Captain Dan Blanchard, owner and CEO of UnCruise, commended the crew for promptly extinguishing the fire and using established emergency protocols. Eleven crew members remained on board WILDERNESS DISCOVERER after the incident.
Guests were transferred to Princess Cruises' SAPHIRE PRINCESS and later relocated to another vessel before disembarking at Alaska's Glacier Bay National Park headquarters.
The WILDERNESS DISCOVERER, constructed in 1992, is a 178-foot expedition cruise ship with a capacity to accommodate 76 guests.
Weather at the time of the incident was reported as 15 mph winds, 3-foot seas, and 5-mile visibility. An investigation is underway to determine the cause of the fire.