Fisherman Medevaced After Losing Consciousness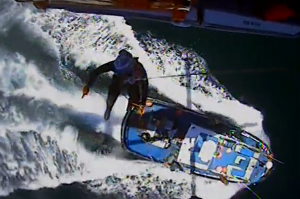 The U.S. Coast Guard medevaced an injured fisherman on Monday, July 19th near Newport, Oregon. The operator of a 40-foot commercial fishing vessel called watchstanders at the U. S. Coast Guard Sector North Bend command center at approximately 1:15p.m. to request assistance after a 70-year old fisherman lost consciousness.
The fishing vessel was located approximately 5 miles west of Newport, Oregon at the time of the call. The Sector North Bend rescue crew was conducting training exercises in the area and was able to reach the scene of the incident by 1:45 p.m. An MH-65 Dolphin helicopter crew hoisted the injured fisherman. He was then taken to the U.S. Coast Guard Air Facility in Newport, Oregon, transferred to awaiting emergency medical service personnel, then taken to a local hospital for a higher level of care. The injured fisherman's condition is currently unknown.
Injuries that involve loss of consciousness can be serious. The attorneys at Stacey and Jacobsen, PLLC are some of the most experienced in the nation at handling maritime injury accidents. They have the compassion, commitment, skill, and knowledge to recover fair compensation for crewmembers injured at sea. If you have been injured at sea and need assistance with your claim, all (877) 956-4337 for a free case consultation.