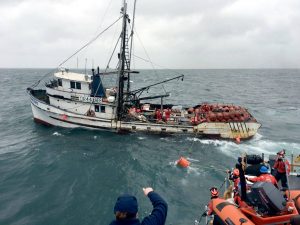 Five fishermen were rescued by the US Coast Guard after their vessel began taking on water west of Cape Alava, Washington.
Watchstanders were alerted to the situation on Wednesday, January 31st at 1:15 p.m. The 87-foot F/V Sunnfjord was taking on water, however, dewatering pumps were unable to keep up with the rising water. Good Samaritan vessels Island Voyager and Equinox responded to the distress call in addition to Coast Guard cutters Cuttyhunk and Swordfish. An MH-65 Dolphin helicopter from Coast Guard Air Station/Sector Field Office Port Angeles, a Motor Life Boat from Station Quillayute River, and a Motor Life Boat from Station Neah Bay were also part of the response team. Watch the video of this heroic rescue.
As the water rose in the engine room, fishermen donned survival suits and life jackets. The helicopter crew initially planned to pick up and deliverer another dewatering pump, but as the situation grew dire, they refueled at Neah Bay then traveled directly to the F/V Sunnfjord.