F/V McKenzie Rose Fisherman Sustains Head Injury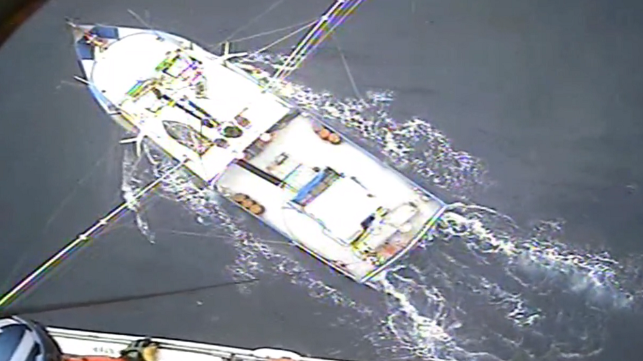 A 26-year-old man was medically evacuated from the F/V MCKENZIE ROSE after the crewmember sustained a head injury. The vessel was located about 100 miles west of Coos Bay when the injury occurred.
Watchstanders at Coast Guard Sector North Bend received a marine radio call from the vessel's captain reporting that a member of the crew needed medical attention.
Communication remained open between the F/V MCKENZIE ROSE and the U.S. Coast Guard Sector as the vessel turned toward shore to meet up with the Coast Guard MH-65 Dolphin crew. The injured fisherman was hoisted aboard the MH-65 Dolphin then transported to the U.S. Coast Guard airbase. He was then transferred to emergency medical personnel.
"Getting this man to emergency medical care was a coordinated effort between the McKenzie Rose crew and the Coast Guard," said Petty Officer First Class Michael Halasz, Sector North Bend watchstander. "The teamwork greatly aided in the swift transport and treatment of the injured crew member."
Head and brain injuries are complex. They can cause physical, emotional, psychological, and neurocognitive complications after an injury and even into the future. Head and brain injuries can result in permanent disability, impaired mobility, seizures, balance disorders, memory loss, vision problems, speech impairment, loss of smell and taste, dizziness, hearing problems, and depression.
If you or a family member has suffered a head or brain injury while working at sea, it is important to begin an early investigation into the facts of the maritime accident. The employer and vessel owner should be contacted and advised to preserve all evidence relevant to the accident. Faulty equipment and unsafe conditions should not be altered until your legal team has had an opportunity to inspect the accident scene.
Jones Act seamen who are injured through negligence or unseaworthiness are entitled to compensation for lost past and future wages, lost wage-earning capacity, loss of enjoyment of life, pain and suffering, and future medical expenses. Stacey & Jacobsen, PLLC has handled thousands of Jones Act negligence and unseaworthiness cases. They have recovered millions of dollars in compensation for their clients who have suffered traumatic brain injuries while working at sea.
Stacey & Jacobsen, PLLC is one of the nation's most experienced maritime personal injury law firms. They understand how head and brain injuries occur and how they could have been avoided. They are proud of their history of helping seamen, crewmen, and fishermen who have suffered injuries get full and fair compensation.
Contact Stacey & Jacobsen, PLLC for a free consultation to learn more about your rights after a head or brain injury.