It is with great sadness that we report that the search for a missing fisherman near Nashagak Bay has been suspended.
On M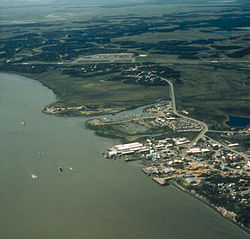 onday, July 1st at about 3 a.m. watchstanders in the Sector Anchorage command center received a call via VHF-FM marine radio that a crewmember aboard the F/V PAIL RIDER had fallen overboard in Nashagak Bay.
The U.S. Coast guard dispatched a C-130 Hercules aircraft crew and MH-60 Jayhawk helicopter crew from Air Station Kodiak to search for the missing crew member. Flares were also fired by the F/V PAIL RIDER crew to alert other vessels in the area. Searchers were optimistic that because the fisherman was wearing bright orange pants and bib that he would be spotted by one of the approximately 10 good Samaritan vessels that were near the scene and searching. The missing crew member was not wearing a life jacket when he fell overboard. The F/V PAIL RIDER is home-ported in Dillingham, Alaska. Originally, the U.S. Coast Guard was optimistic that the man would be found.