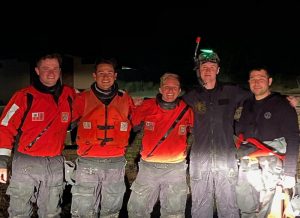 The most dangerous job in the world requires proper safety gear, proficient training, quick action during mishaps, and experienced emergency responders at the ready when the need arises. These essentials came together on Tuesday, September 8th to save the life of a fisherman when his 44-foot commercial fishing vessel ran aground then began breaking apart in the 10-foot surf near South Beach State Park, Oregon.
Watchstanders at U.S. Coast Guard Sector North Bend received a mayday call that the lone fisherman, trapped on the south jetty in Newport, was being forced to abandon ship. The 52-foot Motor Lifeboat Victory, a 47-foot Motor Lifeboat, and a ground crew were dispatched from Station Yaquina Bay.
Crew members from Station Yaquina Bay instructed the fisherman to use flares to signal his location. The flares were visible to the Motor Lifeboat as well as an MH-65 Dolphin rescue helicopter that had been deployed. The helicopter was unfortunately forced to turn back due to hazardous weather and poor visibility.