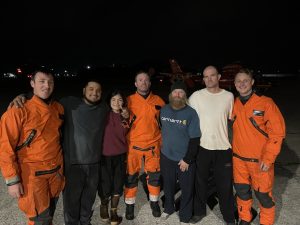 Four people were rescued on August 25th after their fishing vessel ran aground near Dutch Harbor, Alaska.
The F/V ENDURANCE crew made an emergency satellite phone call to watchstanders at approximately 10:57pm, reporting that the vessel had run aground, was listing severely, and taking on water. The call was received by U.S. Coast Guard 17th District command center in Juneau, Alaska and help was dispatched.
U.S. Coast Guard Cutter BERTHOLF was located approximately 30 miles northeast of the F/V ENDURANCE at the time of the call. The BERTHOLF crew launched an MH-65 Dolphin helicopter crew and a small boat to rescue the stranded seafarers.