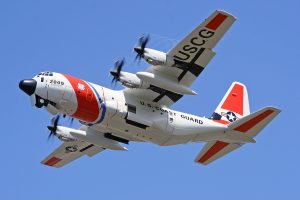 The U.S. Coast Guard has suspended the search for a fisherman who fell overboard in Ugashik Bay, 190 miles west of Kodiak, Alaska.
Watchstanders at Coast Guard 17th District Command Center received an urgent marine information broadcast on Thursday, July 19th at approximately 4:27p.m. from the F/V CAPE GREIG, that a crewmember had fallen overboard. An Air Station Kodiak Jayhawk aircrew was immediately dispatched to conduct a search in addition to a Coast Guard Air Station Kodiak HC-130 Hercules aircraft, which was diverted to the scene.
Nine good Samaritan vessels joined the search and covered over 13-square miles along the shoreline of Ugashik Bay as well as upriver, in an effort to locate the missing fisherman.