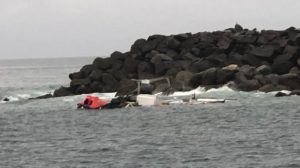 Two people were rescued by the U.S. Coast Guard on Sunday, September 22nd after the 54-foot fishing vessel they were navigating became disabled after striking a submerged object. The F/V FEARLESS II subsequently drifted into the rocks near the Coos River entrance. Watchstanders at Sector North Bend received the distress call over VHF-FM radio channel 16 at approximately 12:52am.
The crewmembers climbed onto the rocks after being forced to abandon ship. An MH-65 Dolphin helicopter aircrew and a 47-foot Motor Lifeboat crew were dispatched from the U.S. Coast Guard Station Coos Bay and hoisted the two people from the jetty. They were transported to the air station and awaiting emergency medical personnel. One crewmember was uninjured while the other sustained abrasions and lacerations during the incident.
Salvage and debris cleanup from the vessel wreckage will be ongoing and challenging due to the precarious position of the F/V FEARLESS II among the rocks. The vessel belonged to the late Josh Porter, who lost his life along with two other crewmembers last January in the devastating F/V MARY B II accident off Newport. The F/V FEARLESS II was reportedly being brought back to Oregon to be sold.